Liza Comita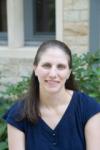 Associate Professor of the School of the Environment
Address:
205 Prospect St, New Haven, CT 06511
Professor Comita earned a BA in Biology and MA in Conservation Biology from the University of Pennsylvania in 1999 and a PhD in Plant Biology from the University of Georgia in 2006. She joined the faculty of the Yale School of Forestry and Environmental Studies in July 2014. Prior to that she was an assistant professor in the Department of Evolution, Ecology and Organismal Biology at The Ohio State University (2011-2014) and held postdoctoral positions at the University of Minnesota (2006-2007), the Earth Institute at Columbia University (2007-2009), and the National Center for Ecological Analysis and Synthesis (2009-2011).
Research Areas:
Professor Comita's work focuses on the ecological mechanisms driving patterns of diversity, dynamics, and species distributions in both pristine and human-altered tropical forests. The research combines extensive field studies of forest dynamics with cutting-edge statistical techniques to produce novel insights into the processes driving tropical forest regeneration and structuring these diverse ecological communities.